Dolphins add spice as Crosbie battles for the front of the Topper World Championships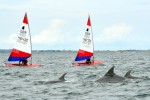 The 177 boats of the Sovereign Ski Topper World Championships were joined in Dublin Bay yesterday by a school of Dolphins who added a playful element to a testing day in light airs for the young sailors.
Matt Venables of the UK National Squad continued his fine run and is well clear of the field on just 20 points while Royal Cork Yacht Club sailor Patrick Crosbie is showing tremendous form and is on 44 points  in third place – but on exactly the same points as the second placed boat.
Event Chairman Margaret Kneafsey described the day: "The dolphins were an amazing sight. They played around and jumped between the boats and generally seemed be having fun and enjoying themselves."
Race OOD Con Murphy battled with the light airs but managed to get two of the three scheduled  races in before calling it a day when the breeze disappeared completely. "It's been difficult for these young sailors because not only has the wind been very light but it has been horribly shifty" said the International Race Officer.
Matt Venables (Sutton YC, UK) remains top of the leaderboard, but with the final three races to be run tomorrow he will still have to work to become world champion. The 15 year old will go into the  29er class next year as the next step in the Pathway progression, but there is nothing he wants more that to step up as reigning Topper world champion.
Patrick Crosbie has had a brilliant championship and can still win tomorrow. A race winner on Tuesday, he has kept the Tricolour flying high and is battling hard to stay on the podium and possibly the top slot on it.
Tomorrow (Friday) will be a thrilling final day – rounding off a great two weeks for the National Yacht Club, the ISA, Dun Laoghaire, the Harbour and the army of volunteers that made the events the success they have been – and an excellent lead in to next July's ISAF Youth World's.