Feva Initiative at NYC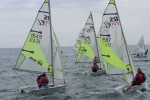 The Junior Section is very keen to develop and grow the Feva Class at the NYC and the Club has agreed to purchase 2 Fevas for the Juniors. We believe this will greatly assist in training.
We will be running Feva Coaching alongside our Winter Coaching and as this is a Club initiative the coaching will be subsidised. Coaching sessions will be charged at €15 per session.
Juniors can sign up to all six sessions if they are available or alternatively they can sign up to do as many sessions as they can.
Please download the  application form and return to the office Feva Coaching 2011
Please contact the office on 01 2805725 if you have any further queries.