NYC Topper Sailors at CLYC Event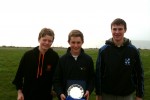 On  March 30th three of our Topper sailors travelled to Rostrevor for the first Topper event of the year at CLYC.
Mark O'Connor, Hugh Perrette and Darragh Rowley ably represented NYC, with Hugh bringing home 2nd prize overall for the club.  NYC will be hosting the Topper Leinsters later this year – 3rd / 4th May.