Optimist Connaught Championships Report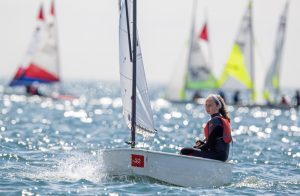 Lough Ree Yacht Club hosted the 2021 Connaught Championships on a hot sunny but not so breezy two-day event. Still conditions proved challenging for all competitors with only two races being run on Saturday and luckily a fresh afternoon breeze on Sunday allowed them to get a third race in and finish on five races. At the top of the leader board in Senior Fleet Ava Ennis repeated her performance from the Leinsters, taking third place on Saturday and a second-place finish on Sunday to finish fourth overall in a 49-boat fleet. Strong performances in senior fleet were also seen from Maria Butler and Theo Madigan who endured and finished the two-day event. In Junior fleet three NYC Sailors performed well in the changing conditions, Jonathan Dempsey, Louise Hanley and James Gorman. Well done all sailors and next up the National Championships at Lough Derg Yacht Club.
Finally, many thanks to Lough Ree Yacht Club for hosting such a fantastic event and we hope to visit your fine facilities again soon.